Up
The latest Disney/Pixar animated film, Up, begins in a very engaging way, with its own take on the newsreels of the 30's and 40's, following the story of an adventurer, Charles Muntz, discovered to be a fraud. Young Carl, in the audience, believes his hero has been falsely accused, and dreams of flying to remote South America to find him. He meets a fellow adventurer, spirited young Ellie, who steals his heart. In a beautifully poignant montage, Carl and Ellie marry and share life's joys and sorrows. Eventually Ellie becomes ill and dies, leaving Carl devastated. The exciting trips they dream of never happen. Life, including Carl's balloon business, always got in the way.
After Ellie's death, the grieving Carl remains in their house, surrounded by modern high rise developments. The developers continually attempt to buy out Carl, who, stubbornly resists. In a desperate attempt to escape being forced into a retirement home, Carl attaches thousands of balloons to his house, and it rises and floats away. Don't ask me how. It's a movie!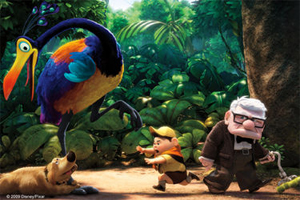 Carl attempts to fly to South America on his own adventure with an 8 year old stowaway: the enthusiastic Junior Wilderness Scout, Russell. Carl and Russell make it to South America, encounter Charles Muntz himself, and return home. From a crabby old man, Carl grows to appreciate nerdy Russell, who yearns for a father figure in his life.
There's much to like about Up. The Pixar studios are the undisputed masters of animation, from the much loved Toy Story to last year's animated masterpiece, WALL-E. Up is Pixar's first venture into 3-D filmmaking. The 3-D adds depth to the settings and characters, but, thankfully, is sophisticated enough not to have objects popping out at the audience.
Yet, I found Up something of a disappointment. After the lovely opening, I found the story less than engaging. Up tries to capture some of the feel of the adventure movies of old, in the same way that the Indiana Jones movies have done. But the story left me flat, and a subplot involving talking dogs was downright annoying. The relationship between curmudgeon Carl and nerdy Russell is sweet, but hardly original.
I'm sure you could do a lot worse with summer family movies than Up. It still has the Pixar mark of quality in terms of animation. It's moderately entertaining, but not up to the high standards we've come to expect of Pixar, with characters and stories that appeal to both children and adults. Up has a lot of potential, but, unfortunately, never soars.
Tom Condon, OP