Photos of the Week
Dominican Nuns
Discerning the future together
In September 2012, Fr. Bruno Cadore (master of the Dominican Order) met with the prioresses of the North American monasteries of Dominican nuns at the motherhouse of the Dominican Sisters of Springfield, Illinois. Fr. Bruno inspired the nuns to actively engage with one another in planning for the future. In May, 10 sisters from the Elmira, New York, community (Monastery of Mary the Queen) boarded an airplane (some for the first time) and flew across the country for a weeklong visit to discern future possibilities with the Menlo Park, California community (Corpus Christi Monastery). On the Feast of the Visitation, the Elmira and Menlo Park nuns visited the Dominican Sisters of Mission San Jose in Fremont, California. Read more about this visit
This photo was taken in front of the Mission San Jose Chapel. The monastic nuns discernment process is being facilitated by Sister Judy Jewison, OP, PhD (Sinsinawa), at the front left of the group in the photo.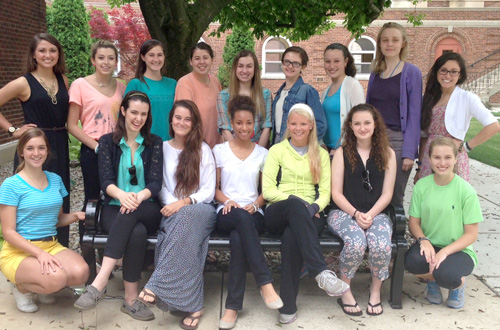 Dominican Sisters of Peace
Students from sponsored schools gather for photo
Students from the four high schools sponsored by the Dominican Sisters of Peace posed for a photo at the recent High Schools Preaching Conference in Adrian, Michigan. The students represented Dominican Academy, New York, New York; St. Mary's Dominican High School, New Orleans, Louisiana; Our Lady of the Elms, Akron, Ohio; and St. Agnes Academy, Memphis, Tennessee.
High Schools Preaching Conference
15th annual event held in Adrian, Michigan
The Adrian Dominican Sisters and Siena Heights University hosted the 15th Annual Dominican High Schools Preaching Conference, held June 24–29. Students and mentors from 24 Dominican high schools attended the conference, which was directed by Adrian Dominican Sister Mary Soher, OP. nican Sister Mary Soher, OP. The conference focused on the various ways that Dominicans preach. In addition, different aspects of the conference helped to focus on one of the four pillars of Dominican life. Read more
UN Briefing
RIO + 20 one year later… Part II
In my last briefing, I introduced the notion of Sustainable Development Goals (SDGs) and the Post-2015 Development Agenda, both of which flow from the outcome of Rio + 20. This Post-2015 Development Agenda is intended to be people-centered, while acknowledging the fact that we live on a fragile Planet whose limited resource base is already being stretched to the limit. One year ago, in the aftermath of Rio + 20, UN Secretary General Ban Ki-moon appointed a high-level panel to prepare a framework for this development agenda. Read article by Sister Margaret Mayce, OP (Amityville)
Immigration
At the border: Seeing the human face of migration
Across Mexico and U.S. border cities like Nogales, one witnesses people living in desperate realities. I joined Roy Bourgeois and Lisa Sullivan of the School of the Americas (SOA) Watch and 14 others to deepen our awareness of the human issues regarding immigration and deportation in Arizona and its partner state, Sonora, Mexico. This trip was disturbing, as we saw the suffering and met people victimized by border regulations, laws, criminals, and the desert terrain. Read story by Kathy Long, OP (Sinsinawa)
Mission San Jose
Visit from Dominican nuns an historic occasion
May 31, 2013, the Feast of the Visitation, marked an historic gathering of the Dominican family in Mission San Jose. Ten Dominican nuns from Corpus Christi Monastery, Menlo Park, California, and 10 nuns from the Monastery of Mary the Queen, Elmira, New York, came to the motherhouse of the Dominican Sisters of Mission San Jose, Fremont, California, to explore future collaboration around elder care and vocations. Read more
Adrian Dominicans
Sisters welcome Lansing bishop for annual pastoral visit
The Most Reverend Earl Boyea, Bishop of the Diocese of Lansing, visited the Adrian Dominican Sisters and presided at a special Mass on June 26. His pastoral visit to the motherhouse has become a tradition, anticipated by both Bishop Boyea and the sisters on the motherhouse campus. Sister Attracta Kelly, OP, prioress of the congregation, welcomed Bishop Boyea and thanked him for his visit. Read story, view photos on the Adrian Dominicans web site
Obituary
Sister Claire, 105, was former San Rafael prioress
The Dominican Sisters of San Rafael, California, held a funeral Mass July 3 for their oldest member, Sister Claire Maher. She was a teacher and principal in the Archdiocese of San Francisco for more than 40 years. Her obituary was featured in Catholic San Francisco, the archdiocesan newspaper. Read more
Priest in the News
Monastery chaplain, 92, retires
For the past 11 years, Fr. Edward Gaffney, OP, served as the chaplain at the Monastery of the Immaculate Heart of Mary (Cloistered Dominican Nuns of the Perpetual Rosary) in Lancaster, Pennsylvania. He served in the U.S. Army from 1964 to 1981 and was an army chaplain in Vietnam during the Vietnam War. He was recently featured in an article in the Sunday edition of Lancaster's daily newspaper. Read article
Sparkill Dominicans
Sister Carol Kopff honored as Distinguished Alumna
In June, the Ursuline Academy in St. Louis, Missouri, honored Sister Carol Kopff, OP (Sparkill) with its Distinguished Alumna Award. Sister Carol has worked in prison ministry since 1980. In response to the need she saw for spiritual formation among the inmates, she founded the Residents Encounter Christ (REC) Prison Retreat program, which has grown to include 12 state prisons. Read more
Faith and Film
Before Midnight
"Before Midnight" is the third installment of films over a 20-year span about the relationship between an American writer, Jesse (Ethan Hawke) and Celine (Julie Delpy), a French woman he meets by chance and falls in love with. Audiences were first introduced to the young couple in 1995's "Before Sunrise," in which they meet on a train and spend a night in Vienna. Now we meet Jesse and Celine as a 40ish couple who are spending the summer with friends in a beautiful Greek village. Read review by Tom Condon, OP
Previous updates:
| | | |
| --- | --- | --- |
| | | June 26, 2013 |
| June 12, 2013 | May 29, 2013 | May 8, 2013 |
| April 24, 2013 | April 10, 2013 | March 27, 2013 |
| March 13, 2013 | February 27, 2013 | February 13, 2013 |
| January 30, 2013 | January 16, 2013 | Dec 19, 2012 |
| December 5, 2012 | November 16, 2012 | October 31, 2012 |
| October 17, 2012 | Sept 26, 2012 | Sept 12, 2012 |
| August 29, 2012 | August 15, 2012 | July 25, 2012 |
| July 11, 2012 | June 27, 2012 | June 13, 2012 |
| May 31, 2012 | May 16, 2012 | May 2, 2012 |
| April 4, 2012 | March 21, 2012 | March 7, 2012 |
| February 22, 2012 | February 8, 2012 | January 25, 2012 |
| January 11, 2012 | December 21, 2011 | December 7, 2011 |
| November 23, 2011 | November 9, 2011 | October 19, 2011 |
| October 5, 2011 | Sept 21, 2011 | Sept 7, 2011 |
| August 24, 2011 | August 10, 2011 | July 20, 2011 |
| | | |
| | | |
| | | |
| | | |
DSC Win-Win OPportunity raffle
Congratulations to the following winners of the Dominican Sisters' Conference raffle: Sisters Nancy Jurecki, OP (Adrian), Margaret Charles, OP (Caldwell), Irene Francis Fair, OP (Hope), Barbara Gerardi, OP (Amityville), and the grand prize winner, Jean Tobin (Adrian). The raffle raised more than $6,000 to support the DSC. Thank you to all who participated!
Shop Amazon.com and support DSC
Purchase books, gifts and other items through Amazon.com, and a percentage of the cost will be donated to the Dominican Sisters Conference. Click on the icon (above) to get started.
New Orleans sisters participate in No More Names event
On Saturday, June 29, Dominican Sisters of Peace Theresa Fox, OP, and Mary Daniel, OP, participated in the No More Names Campaign event held in New Orleans, Louisiana. The program on gun control began with prayer and was followed by several stories from victims of gun violence.
Poetry and Prayer Workshop July 27
Poetry and Prayer, a workshop, will be held Saturday, July 27 at Sinsinawa Mound, Sinsinawa, Wisconsin. Join Sisters Ann Henkel, OP, and Priscilla Wood, OP, for a journey into poetry, both classic and contemporary, from the Psalms to George Herbert to Mary Oliver.
Webcast: Dimensions
of Earth-Keeping
Weber Retreat and Conference Center offers key segments of this ecology program via live stream. "Dimensions of Earth Keeping: Biblical, Legal and Practical" is scheduled for July 19–20 and features presentations by Sisters Pat Benson, OP; Pat Siemen, OP; and Mary Ellen Leciejewski, OP.
Making text larger
To enlarge text on a PC, use the keyboard shortcut: Control + (push and hold the Control key and then push the + key). To reduce the size of text, do the same thing using the Control - (minus) keys.
Dominican crosses available
Cost is $23 plus shipping. Contact sisters@domlife.org