Adrian Dominicans
Congregation celebrates professions of three sisters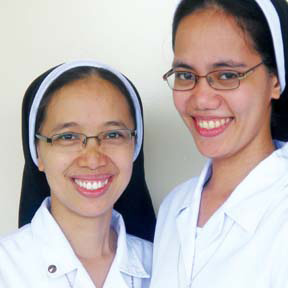 Over the course of the summer, three women professed vows with the Dominican Sisters of Adrian, Michigan. Sister Abegail Santos, OP, professed her perpetual vows, and Sisters Michelle Salalila, OP, and Adela Langa, OP, professed their First Vows.
The Rite of Profession for Sisters Abegail and Michelle took place on June 15 during a liturgy held at Mother of Good Counsel Seminary Chapel in Pampanga, the Philippines. The Most Reverend Paciano B. Aniceto, DD, Archbishop of San Fernando, presided.
The two sisters originally entered the Dominican Sisters of Our Lady of Remedies, based in Pampanga. That congregation merged with the Dominican Sisters of Adrian in November 2011.
Sister Michelle entered religious life in 2010 and recently completed her canonical novitiate year. A teacher by choice, she is continuing her first assignment, begun when she was a second-year novice: to teach at Dominican School in Angeles City. The school was established by the sisters in 2011.
Sister Abegail entered in 2006 and has been studying theology at Assumption University, earning a certificate in religious education. She holds a bachelor's degree in accounting and has worked as a certified public accountant.
Sister Adela professed her vows on Aug. 4 during a special Liturgy in Holy Rosary Chapel at the Adrian Dominican Motherhouse. Father James Barnett, OP, presided.
A native of Romania, Sister Adela holds a bachelor's degree in French and English from Babes-Bolyai University in Romania and a master's degree in English from Bowling Green State University, Bowling Green, Ohio. She served as a writing specialist for the Writing Center at Bowling Green before entering the Adrian Dominican Congregation on April 29, 2010. She currently ministers at Barry University in Miami Shores, Florida.