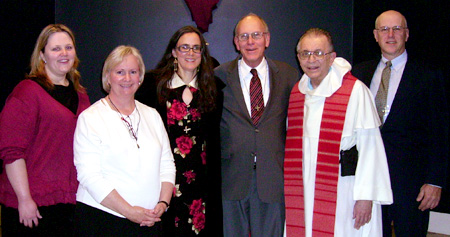 Lay Dominicans
Receptions and promises celebrated in St. Louis
The St. Martin de Porres Group of Dominican Laity from Kansas City traveled to St. Dominic Priory in St. Louis on Palm Sunday to celebrate the reception and final promises of several members. Tom Smith, the moderator of the group, received the life promises of Ann E. Jurcyk-Borders and John Heuertz in the presence of Fr. James Motl, the spiritual advisor of the group. Penny Harrison was received into the group as a new candidate and Kelly Johnson as an official inquirer.
Lay Dominicans, once called secular members of the Third Order of St. Dominic, are now officially known as members of the Lay Fraternities of St. Dominic. Before making life promises, Lay Dominicans undergo a four to five year formation process to prepare them for living the Dominican charisms of prayer, study, community, and mission as lay Catholics in today's world.
The Kansas City group meets at 4 p.m. on the third Sunday of every month at Our Lady of Perpetual Help Parish Senior Center, 207 W. Linwood, Kansas City, Missouri. For more information contact Thomas Smith at (816) 232-0374 or e-mail tpsmith@stjoelive.com.
For more information about the Dominican Laity, click here.