Interfaith Award
Jewish Community Relations Council honors Dominicans
Fr. Richard Peddicord, OP and Sister Carla Mae Streeter, OP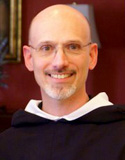 The prestigious Norman A. Stack Community Relations Award will be presented to Fr. Richard Peddicord, OP, president of Aquinas Institute of Theology, and to Sister Carla Mae Streeter, OP, longtime Aquinas faculty member, at the Jewish Community Relations Council annual meeting May 25 in St. Louis, Missouri. This award was established in 1989 to honor leaders of the St. Louis community who have made significant contributions to interfaith understanding, intergroup relations, and social justice.
Gerald P. Greiman, president of JCRC, and Batya Abramson-Goldstein, executive director of the JCRC, state: "The JCRC is delighted and deeply honored to add the names of Fr. Peddicord and S. Carla Mae Streeter to the list of those magnificent St. Louis leaders who have received this award and to thereby acknowledge their important contributions to the St. Louis community."
The Jewish Community Relations Council (JCRC), a beneficiary agency of the Jewish Federation of St. Louis, is the public affairs arm of the organized St. Louis Jewish community.