Dominican Young Adults Gather in Portugal for International Conference
FATIMA, Portugal-- August 28, 2009 -- From as far away as Argentina, Mozambique, Taiwan, Croatia, and the United States, Dominican young adults, friars, sisters and laity gathered for the 11th International conference, "Young Adults: Searching and Preaching in the Dominican Way." Kevin Sullivan (President, Madison, WI), Michelle Schultz (Communicator, Chicago, IL), Daniel Breitfeller (Formation, Columbus, OH), Sr. Gina Fleming (Director, Amityville, NY), Sr. Mary Soher (Associate Director, Adrian, MI) and Jenn Schaaf (Associate Director, Blauvelt, NY) represented the Dominican Young Adults from the United States. The Meeting was held August 2-9, 2009.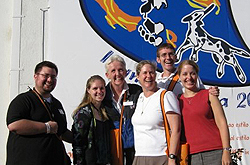 The Conference began with representatives from each country presenting what is happening in their country – politically, socially, and spiritually – and how the young adults are responding. Following the presentations, Portugese Dominican Sisters took the group on a pilgrimage of the area where Lucy, Jacinta and Francesco saw the visions of Our Lady of Fatima. What was an open area of olive groves and fields where sheep grazed is now a place visited by millions wanting to experience this holy site. That same evening, the young adults attended Mass with the Portugese Dominican Friars, which was followed by dinner and dancing. Dominican Sisters from the area, as well as Nuns from the local monastery also welcomed the young adults and joined in the festivities.

The second and third day were focused on formation, with presentations, workshops and small group discussions. Sister Lucia from Argentina presented on the Spirituality of St. Dominic. Fr. Marcio from Brazil presented on the purpose of Study. A panel representing the Dominican Family in Portugal presented how the Sisters, Laity, Friars, Nuns and Young Adults all work together, share celebrations and even take trips together on a regular basis. The collaboration among the branches of the family is considered an essential part of life and continuing the mission of the Order. Young adults were also able to choose from workshops on topics that included "Preaching Through New Technologies," "Preaching Through Art," "Preaching to the Youth," and "Reading the Bible," "The Dominican Family," "What is the International Dominican Youth Movement?" and "International Dominican Volunteers and Justice and Peace."

The Master of the Order, Fr. Carlos Aspiroz, celebrated Mass with the young adults, then spent two hours in a question-and-answer session, listening to their questions and suggestions about how young adults participate as part of the Dominican Family.

Prayer was an essential component of this gathering. Each day, groups from different continents prepared and presided at morning prayer, meal prayers and liturgy. In addition, on Wednesday night, the young adults assisted in leading the traditional rosary held at the Sanctuario. The rosary was recited in Spanish, Portugese, Croatian, English, French, Italian and songs were sung in Latin, Portugese, Spanish and English. A candlelight procession, following the rosary, is a nightly occurrence with thousands of visitors participating. Language and cultural barriers disappeared as hearts were opened during prayer and being present to one another.

From the first day of the gathering, as groups waited for each other to arrive, a Dominican spirit of hospitality prevailed. During breaks and at meals short phrases and sign language transcended any language obstacle. Smiles and laughter could be seen everywhere as we helped each other understand each other. On Friday evening, different cultures were celebrated as each country shared food and entertainment from their native traditions.

Following this gathering, two representatives from each of the countries will be meeting to continue to work of IDYM in a more formalized manner.