Photos of the Week
St. Mary's Dominican High School
Sister Pat Harvat coaches faculty flag football team
When the faculty and seniors at St. Mary's Dominican High School, New Orleans, Louisiana, played their annual flag football game on Sept. 3 in the school's Siena Center gym, the faculty's team coach was marking a special anniversary. It was 47 years ago that Adrian Dominican Sister Pat Harvat, vice president of Catholic identity for the school, entered the Adrian Dominican congregation in Michigan. "Through the years I have had many wonderful experiences and challenges. Coaching a faculty flag football team is one of them," said Sister Pat. Final score: Faculty 24, seniors 12.
Dominican Sisters' Conference
Congregational leaders meet in San Antonio
Leaders from congregations of Dominican sisters throughout the United States met Oct. 2–6 at Oblate Theological Center in San Antonio, Texas. During this time, they discussed how to continue collaboratively in mission, and meet the critical needs of our times. Leaders also met with representatives from Dominican Women Afire to learn how they can be supportive to this group.
Above (from left): Facilitator Sister Cathy Bertrand, SSND; and sisters representing Dominican Women Afire: Linda Gibler, OP (Houston); Nery Sori, OP (Adrian); Mae-Dung Nguyen, OP (Peace); and Elizabeth O'Donnell, OP, (Mission San Jose). Photo by Sister Pat Farrell, OP (San Rafael)
Climate March
Dominican sisters, volunteers join thousands in New York
On Sunday, Sept. 21, Dominican Sisters of Hope Pat Jelly, OP, Ann Marie Bucher, OP, and Mary Headley, OP joined many other Dominicans, and hundreds of thousands of people in New York City and around the world to take a stand in the People's Climate March. The march took place before world leaders convened at the UN for the Climate Summit.
Above from left: Sisters Pat Jelly, OP; Ann Marie Bucher, OP and Mary Headley, OP, with Dominican Volunteers Kelly Litt and Rebecca Morgenstern.
UN Briefing by Kelly Litt: People's Climate March calls for UN action Read article
Global Sisters Report: Why I'm going to the People's Climate March, by Sister Pat Siemen, OP (Adrian) Read article
Global Sisters Report: Sisters to march in support of climate change solutions Read article
Catholic News Service: Marchers hope grass-roots action shows urgent need for climate solution Read article
Caldwell Dominicans
Congregation welcomes new associates
In September, the Caldwell Dominicans welcomed five new associates in a moving reception held in the Motherhouse Chapel. Laura Entwistle, Gladys Haynes, Ann Marie McCabe, Kaitlyn McFarlane and Kathleen McFarlane each committed herself to be witness to the Lord's Gospel in the charism of Dominic and Catherine. The Caldwell Dominican Community also had the opportunity to thank Mary Lanni for her many years of service as director of its Dominican Associates Program. Sisters and associates gave a warm welcome to Vilma Mueller, the program's new director, as well.
Above from left: Mary Lanni, OPA; Kathleen McFarlane, OPA; Sister Kathleen Tuite, OP; Kaitlyn McFarlane, OPA; Sister de Montfort Kinchellagh, OP; Ann Marie McCabe, OPA; Sister Elise Redmerski, OP; Gladys Haynes, OPA; Sister Barbara Moore, OP; Laura Entwistle, OPA.
Maryknoll Sisters
Congregation elects new leadership
Four members of Maryknoll Sisters were elected as new leaders of the congregation at its General Assembly, held Sept. 7-21 in Woodcliff, New Jersey. Convened once every six years, the assembly drew together 147 Maryknoll Sisters from 18 different nations. These sisters served as representatives of the 458-member congregation in nominating and voting on new leadership, as well as reaching decisions on key issues about their mission and congregational life. Read more
Dominican Sisters International
Representatives visit Sinsinawa, Peace Dominicans
The Sinsinawa Dominicans welcomed sisters representing Dominican Sisters International (DSI) to Sinsinawa, Wisconsin, Sept. 21–23. DSI International Coordinator Sister Marie Therese Clement, OP, and DSI Continental Coordinator for North America Sister Rose Marie Riley, OP gave a talk on the work of DSI. During the visit, a prayer service was held in conjunction with United Nations International Day of Peace. Read more
Above from left: Sinsinawa Dominican Prioress Sister Mary Ellen Gevelinger, DSI Coordinator Sister Marie Therese Clement, and DSI Continental Coordinator for North America Sister Rose Marie Riley.
During a recent visit to the Columbus, Ohio, motherhouse of the Dominican Sisters of Peace, Sister Joan Scanlon, OP, interviewed DSI International Coordinator Sister Marie Therese Clement, OP. Watch video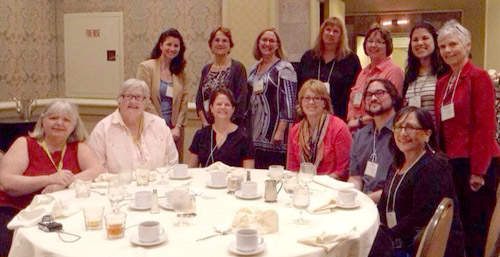 Dominican Communicators
Communicators attend CWR 20th anniversary conference
Communications personnel for Dominican congregations of women religious throughout the United States attended the 20th annual conference of Communicators for Women Religious Sept. 30–Oct. 3 in Long Beach, California.
Above from left (front row): Susan Palmer, Maryknoll Sisters; Jean Mullooly, Racine Dominicans; Tricia Buxton, Sinsinawa Dominicans; Dawn Pennington and Aaron Tebrinke, Springfield Dominicans; Teresa Schmidt, Mission San Jose Dominicans. Back row from left: Debra DeRupo, Amityville Dominicans; Kate Martin, San Rafael Dominicans; Stacy Spitler, Grand Rapids Dominicans; Alison Faubert, Hope Dominicans; Alicia Skinner, Caldwell Dominicans; Kara Donsky, Sparkill Dominicans; Sister Margaret McCarthy, OP (Mission San Jose).
Rosaryville Spirit Life Center
Retreat center celebrates 75th anniversary
Rosaryville Spirit Life Center in Ponchatoula, Louisiana, recently marked 75 years with an outdoor Mass and celebration. Bishop Robert Muench of the Diocese of Baton Rouge officiated at the Mass. Sisters and staff enjoyed a blessing from the bishop and fellowship afterward. Robert Vicknair, head of maintenance for Rosaryville (left), was also recognized for 35 years of service.
Above (front row) from left: Sisters Mary Noel, OP; Mary Dominic Savio Storge, OP; Jo Ann Cotterman, OP; Mary Ann Culotta, OP; Charlene Moser, OP; Denise Bourgeois, OP; Marjorie Millet, OP; Mary Edmund Gibson, OP. Back row from right: Suzette Callais (executive director) and Mickey Jiror.
DSC Regional Gathering
Dominican sisters and associates meet in Michigan
Fifty Dominican sisters and associates gathered at St. Mary Magdalen Parish in Brighton, Michigan, on Sept. 13. The attendees represented four Dominican congregations who are members of the Dominican Sisters' Conference (DSC): Adrian, Grand Rapids, Peace, and Racine. The group convened with the purpose of addressing the question "What is Earth asking of the Dominican Order?" (raised at the DSC convocation), to build better relationships for the sake of mission, and to create a greater sense of connectivity to DSC in order to help move the DSC forward. The meeting was sponsored by Great Lakes Dominican Mission Chapter of the Adrian Dominicans.

Dominicans in Iraq
'We have family in Iraq'
"Every day, many families leave Iraq, without having a specific place to go, to countries such as Jordan, Lebanon, and Turkey to apply to the UN for immigration. Some have managed to travel directly to France. Of course, among these people are families of our sisters, a fact that causes additional pain as they see the members of their families scattered in different countries throughout the world." —Read the Oct. 4 letter from the prioress of the Dominican Sisters of St. Catherine of Siena, Mosul, Iraq.
Adrian Dominicans
Founding director of NETWORK joins Nuns on the Bus
Sister Carol Coston, OP (Adrian), founding director of the NETWORK Catholic Social Justice Lobby, was one of four "Nuns on the Bus" who recently traveled throughout Michigan, spreading awareness of the crucial 2014 mid-term elections to be held Nov. 4. The third annual Nuns on the Bus tour is travelling to 10 states from Sept. 17–Oct. 20. "Getting reconnected with NETWORK in a very tangible way was one of the highlights," said Sister Carol, who began the Michigan portion of the tour in Kalamazoo. Read more
UN Briefing
People's Climate March calls for UN action
On Sunday, Sept. 21, 2014, history was made as more than 400,000 people marched through the streets of New York City to call for action and justice on climate change. This being the largest climate march in history was meant to make a loud statement to those gathering for the Climate Summit at the UN the following Tuesday. According to People's Climate March, there were 2,646 People's Climate events in 162 countries around the world. Read article by Dominican Volunteer Kelly Litt
Maryknoll Sisters
New documentary 'Trailblazers in Habits' to air on ABC
"Trailblazers in Habits," a new documentary about the pioneer work of Maryknoll Sisters, the first U.S.-based congregation of Catholic women religious dedicated to foreign mission, will air on ABC-TV affiliates across the nation, beginning Sept. 28. The program, which is available to stations for broadcast through Thanksgiving Day, Nov. 27, tells the story, in the sisters' own words, of the congregation's work in education, healthcare, and the cause of social justice. Read more
Human Trafficking
Houston Dominicans host Labyrinth Walk for Freedom
September was Human Trafficking Awareness Month in Houston, Texas. What began as Human Trafficking Awareness Week in September 2007 has expanded to a month-long series of events to call attention to and raise awareness about the prevalence of human trafficking. During "Faith and Freedom" week, the Dominican Sisters of Houston hosted a Labyrinth Walk for Freedom on Sept. 16 inviting community members and friends to join them in praying for an end to human trafficking. Read more
Previous updates:
| | | |
| --- | --- | --- |
| | | Sept 10, 2014 |
| August 27, 2014 | August 13, 2014 | July 30, 2014 |
| July 16, 2014 | July 2, 2014 | June 18, 2014 |
| June 4, 2014 | May 21, 2014 | May 7, 2014 |
| April 23, 2014 | April 9, 2014 | March 19, 2014 |
| March 5, 2014 | February 19, 2014 | February 5, 2014 |
| January 22, 2014 | January 8, 2014 | Nov 22, 2013 |
| November 6, 2013 | October 23, 2013 | October 9, 2013 |
| Sept 25, 2013 | Sept 11, 2013 | August 14, 2013 |
| July 24, 2013 | July 10, 2013 | June 26, 2013 |
| June 12, 2013 | May 29, 2013 | May 8, 2013 |
| April 24, 2013 | April 10, 2013 | March 27, 2013 |
| March 13, 2013 | February 27, 2013 | February 13, 2013 |
| January 30, 2013 | January 16, 2013 | Dec 19, 2012 |
| December 5, 2012 | November 16, 2012 | October 31, 2012 |
| October 17, 2012 | Sept 26, 2012 | Sept 12, 2012 |
| August 29, 2012 | August 15, 2012 | July 25, 2012 |
| July 11, 2012 | June 27, 2012 | June 13, 2012 |
| May 31, 2012 | May 16, 2012 | May 2, 2012 |
| April 4, 2012 | March 21, 2012 | March 7, 2012 |
| February 22, 2012 | February 8, 2012 | January 25, 2012 |
| January 11, 2012 | December 21, 2011 | December 7, 2011 |
| November 23, 2011 | November 9, 2011 | October 19, 2011 |
| October 5, 2011 | Sept 21, 2011 | Sept 7, 2011 |
| August 24, 2011 | August 10, 2011 | July 20, 2011 |
| | | |
| | | |
| | | |
| | | |
Liturgical calendar available
The 2015 Liturgical Calendar for the Order of Preachers and Necrology for the U.S. Dominican Provinces and the Province of St. Joseph the Worker, Nigeria, is available through the Central Province's New Priory Press.
Maryknoll Sisters
in the news
The Catholic Sentinel, offical newspaper of the Archdiocese of Portland, Oregon, recently ran an article about three Maryknoll Sisters who made final vows in September.
Central Province friars launch newsletter
Read the latest issue of DomCentral Quarterly from the Dominican friars, Province of St. Albert the Great.
Dolan blesses MSMC's Dominican Center
In September, Cardinal Timothy Dolan blessed the newly renovated Dominican Center at Mount Saint Mary College in Newburgh, New York. He also honored the Dominican Sisters of Hope, who founded the college 87 years ago.
Read article in Poughkeepsie Journal
Free monthly film series at Marywood
Associates of the Grand Rapids Dominican Sisters are offering a free monthly film series on Fridays at the Dominican Center at Marywood, Grand Rapids, Michigan.
Dominican priest addresses spirituality of the musician
Father James Moore, OP, a doctoral student in sacred music at Catholic University in Washington, DC, was the keynote speaker at a spiritual retreat for parish musicians, cantors and music ministers Sept. 26–27 in Sioux City, Iowa.
Read news article in Catholic Globe
Mission San Jose vocation retreat
The Dominican Sisters of Mission San Jose, Fremont, California, invite young women (college to age 40) to join them Nov. 7–9 for a Religious Life Discernment Retreat.
News from the Dominican Insitute for the Arts
Read the latest newsletter from the Dominican Institute for the Arts.
Shop Amazon.com and support DSC
Purchase books, gifts and other items through Amazon.com, and a percentage of the cost will be donated to the Dominican Sisters Conference. Click on the icon (above) to get started.