Photos of the Week
Sinsinawa Dominicans
Congregation celebrates new candidates, novices
The Sinsinawa Dominican Sisters welcomed Megan Graves, Quincy Howard, and Nicole Reich as candidates to the congregation on Aug. 7. They also received Christin Tomy to the novitiate and blessed Kathy Flynn as she begins her second year in the novitiate. Please join us in celebration and prayer as these women continue their journeys to becoming Catholic Sisters!
Above from left: Sister Kathy Flynn, OP; Candidate Megan Graves, Sister Christin Tomy, OP; Candidate Nicole Reich, and Candidate Quincy Howard at Sinsinawa Mound.
Dominican Young Adults
Young preachers gather for virtual meeting
On the precipice of the Aug. 8 feast day of St. Dominic, local chapters of the Dominican Young Adults (DYA) met on Saturday, Aug. 2 in New York at Molloy College and St. Thomas Aquinas College; in Chicago, in Michigan at Siena Heights University, and even in Kenya, Africa (special appearance by Br. Lorenzo Laorden, O.P. doing mission work there). Connecting via technology, more than 20 young adults were able to gather nationally without paying a cent! Read article by Sean Mundy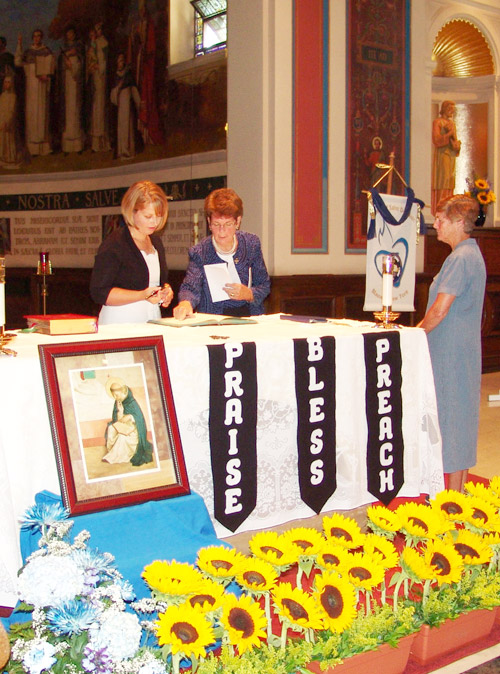 Blauvelt Dominicans
Sister Jennifer Schaaf professes first vows
Sister Jennifer Schaaf professed first vows as a Sister of St. Dominic of Blauvelt, New York, at a liturgy Aug. 9 at the Blauvelt motherhouse. Sister Jenn, a founding member of Dominican Young Adults USA, is assistant chaplain at St. Thomas Moore Catholic Chapel and Center at Yale University, New Haven, Connecticut. Read more/view photos


Mission San Jose Dominicans
Sisters collaborate in leadership program in Mexico
The Mission San Jose Dominicans are partners in a collaborative effort to develop leadership skills among Catholic sisters in active ministries in Mexico. Funded by the Conrad Hilton Foundation, the Sisters Leadership Development Initiative (SLDI) is a three-year education program offering business, finance, marketing and technology training. An SLDI program in Africa trained more than 340 Catholic sisters from five countries as leaders, mentors and CEOs.
Above from left: Sister Margarita Gallardo, program assistant director; Susana Ramos-Enriquez, program liaison with Universidad Ibero Americana; Sister Magdalena Sánchez González, director of continuing education, Universidad Ibero Americana Tijuana; Paula Smith, program consultant; and Sister Reina Perea, OP (MSJ), program director.
Province of St Joseph
Dominican friars celebrate vestition of novices
On Aug. 8, the Feast Day of St. Dominic, the Dominican Province of St. Joseph received 12 men into their novitiate. The men were vested in the habit in a private ceremony in the chapel of St. Gertrude Priory in Cincinnati, Ohio, followed by Mass in St. Gertrude Church. Read more/view photos

Dominicans in Iraq
'We have family in Iraq'
Bishop Richard E. Pates, USCCB chairman of the Committee of International Justice and Peace, has asked the U.S. bishops to invite the people of their dioceses to pray for peace in Iraq on Sunday, Aug. 17. This prayer was written by the Chaldean Catholic Patriarch of Iraq, His Beatitude Louis Rafael Sako. Please join the US Bishops in prayer for Iraqi Christians. Click image for larger view
In the context of the current violence and displacement of Christians in Iraq, Sister Rene Weeks, OP (Peace) reflects on her visit to Iraq in the spring of 2001. She writes: "Before I visited Iraq, I didn't know there were Dominicans there, not just now, but over the centuries… The profound connection we experienced with the Dominicans there changed me. I remember the names of brothers and sisters whom we met and wonder what has happened to them and to their families, where they are today, if they are safe and still able to carry on their ministries." Read more | Read Aug. 8 letter from Dominican Sisters of St. Catherine of Siena in Iraq | Read letter from Dominican brother in Iraq
Springfield Dominicans
Congregation welcomes Kelly Moline as novice
On Aug. 7, the Dominican Sisters of Springfield, Springfield, Illinois, welcomed Kelly Moline as a novice in a rite of initiation in the atrium at Sacred Heart Convent. View photos/video
Adrian Dominicans
Congregation welcomes new associates, hosts gathering
About 60 Adrian Dominican Associates gathered at Weber Retreat and Conference Center in Adrian, Michigan, Aug. 1–3. The weekend gave participants—both associates and sisters—the opportunity to learn more about Dominican spirituality, deepen their sense of community, pray and celebrate together, and discuss matters of concern to the Adrian Dominican congregation. Read more The evening of Aug. 2, four women were formally welcomed as Adrian Dominican Associates during a special ritual of acceptance in St. Catherine Chapel at the Adrian Dominican motherhouse. Read more
Sisters in the News
Sister Debbie: Migrant children are 'fleeing for their lives'
Sister Debbie Blow, OP (Hope) is featured in the Aug. 11 Global Sisters Report (published by the National Catholic Reporter). In the Q & A article, Sister Debbie explains why almost none of the child migrants at the border are from Nicaragua, and what we as Americans need to better understand in order to bring hope to the crisis. Read article Sister Debbie and Sister Patricia Jelly, OP (Hope) were also interviewed for an Aug. 9 article ("View: Hope in child migrant crisis") in Iohud, a community publication in New York's Lower Hudson Valley. Read article
Sparkill Dominicans
Dominican Sisters of Sparkill in the news
Four Dominican Sisters of Sparkill, New York, made headlines recently. Sister Lesley Block, OP, was honored as one of the Bronx Top 25 Most Influential Women of 2014 for her leadership in managing a shelter for young, single mothers. Sister Carol Lehmkul, director of the East Side Heart and Home Family Center in East St. Louis, Illinois, was highlighted as a "catalyst for change" in a recent article by the St. Louis Review. Sister Mary Elizabeth Mooney was featured in an article in The Daily News for her 40 years of commitment to the children of St. John Chrysostom School in the Bronx. Sister Rose Michelle O'Rourke was acknowledged in The Photo News for her 36 years of service as the director of religious education at Sacred Heart Parish in Monroe, New York. Read more
Maryknoll Sisters
Sister reflects on Jesus as refugee, and 'our' Gaza crisis
"The keystone to peace [between Israel and Hamas] is the United States," writes Sister Jean Fallon, MM, in her most recent blog post ("Gaza's Crisis is Also Ours"). In July, she addresses the tragic situation of migrant children in "Jesus Was a Refugee, Too": "At a moment like this, it is helpful to remember that Jesus himself fled violence in his home country as a child—without documentation. He became a refugee in Egypt." Sister Jean ministered for more than 30 years in Japan and is part of the Maryknoll delegation at the United Nations. She is a member of Pax Christi Maryknoll, and has visited Palestine twice with Christian Peacemaker Teams.
Mariandale
Retreat center offers contemplative formation program
Mariandale Retreat and Conference Center in Ossining, New York, is offering an interfaith, 12-month Contemplative Formation Program. The program combines five residency weekends with seven monthly small group meetings to help participants live from a more centered place amidst their full lives and daily busyness. Application deadline is Oct. 17. Read more
Previous updates:
| | | |
| --- | --- | --- |
| | | July 30, 2014 |
| July 16, 2014 | July 2, 2014 | June 18, 2014 |
| June 4, 2014 | May 21, 2014 | May 7, 2014 |
| April 23, 2014 | April 9, 2014 | March 19, 2014 |
| March 5, 2014 | February 19, 2014 | February 5, 2014 |
| January 22, 2014 | January 8, 2014 | Nov 22, 2013 |
| November 6, 2013 | October 23, 2013 | October 9, 2013 |
| Sept 25, 2013 | Sept 11, 2013 | August 14, 2013 |
| July 24, 2013 | July 10, 2013 | June 26, 2013 |
| June 12, 2013 | May 29, 2013 | May 8, 2013 |
| April 24, 2013 | April 10, 2013 | March 27, 2013 |
| March 13, 2013 | February 27, 2013 | February 13, 2013 |
| January 30, 2013 | January 16, 2013 | Dec 19, 2012 |
| December 5, 2012 | November 16, 2012 | October 31, 2012 |
| October 17, 2012 | Sept 26, 2012 | Sept 12, 2012 |
| August 29, 2012 | August 15, 2012 | July 25, 2012 |
| July 11, 2012 | June 27, 2012 | June 13, 2012 |
| May 31, 2012 | May 16, 2012 | May 2, 2012 |
| April 4, 2012 | March 21, 2012 | March 7, 2012 |
| February 22, 2012 | February 8, 2012 | January 25, 2012 |
| January 11, 2012 | December 21, 2011 | December 7, 2011 |
| November 23, 2011 | November 9, 2011 | October 19, 2011 |
| October 5, 2011 | Sept 21, 2011 | Sept 7, 2011 |
| August 24, 2011 | August 10, 2011 | July 20, 2011 |
| | | |
| | | |
| | | |
| | | |
Oranges from Dominic's Tree
Fr. Matthew Powell, OP, has selected, compiled and published an anthology of poems by 32 Dominican writers. The 13 friars, 10 sisters and nine members of what was formerly known as the Third Order included in this volume wrote and published in English from the early 19th century to the present.
Homily for Feast
of St. Dominic
"The spirituality of the Order is a spirituality of gift. We do not earn the love and mercy of Christ by working hard at our jobs. We do not earn the blessings of God. We are flooded with mercy and love before we know our own names, and long after we can't do our jobs anymore. On this feast, we must remember that we also have been sent, and that means that we must empty ourselves, open ourselves to receive the gift and thus, the possibility of change, even if that change is an awareness of diminishment." —Sister Diana Culbertson, OP.
Sister named president of Catholic Biblical Association
Grand Rapids Dominican Sister Barbara E. Reid, OP, has been named president of the Catholic Biblical Association of America (CBA) for 2014–2015. Sister Barbara is vice president and academic dean of Chicago's Catholic Theological Union (CTU).
Dominican Sisters of Peace celebrate Jubilees
Read about the Peace Dominican Sisters who are celebrating milestone profession anniversaries this year.
Shop Amazon.com and support DSC
Purchase books, gifts and other items through Amazon.com, and a percentage of the cost will be donated to the Dominican Sisters Conference. Click on the icon (above) to get started.