Dominican Sisters of San Rafael
Anniversary: Founder was first Catholic sister in California


On Sunday, Dec. 5, the Dominican Sisters of San Rafael were joined by family and friends to celebrate the 160th anniversary of the arrival of the congregation's founder. A long-time friend of the congregation, Fr. Daniel Syverstad, OP, a Dominican of the Western Province, celebrated Mass. Afterwards everyone enjoyed refreshments and conversation at a reception in the Shield Room of Caleruega Hall on the campus of Dominican University of California.
The date for this celebration was to recall Dec. 6, 1850, when Mother Mary Goemaere arrived in San Francisco with Archbishop Joseph Alemany and Father Sadoc Vilarrasa after a long journey. They had travelled from Paris to New York, from New York to Ohio, and from Ohio to the Isthmus of Panama, which had to be crossed by mule and canoe, and up the coast of California onboard the SS Columbus. They finally anchored in San Francisco Bay. This intrepid traveler, Mother Mary, was the first Catholic sister in California.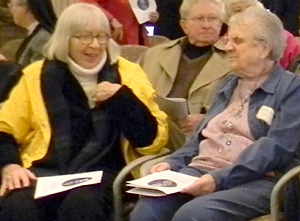 After a brief stop, the Dominicans traveled overland to Monterey, where the Fathers had established a new residency. Mother Mary had accepted Archbishop Alemany's invitation to begin a school there for young girls, introducing the classical education of Europe to California. Native Americans, Spanish from the Monterey Presidio, and families from neighboring ranches sent their daughters to this first Catholic school established in the state of California.
From the grace which inspired Mother Mary to say "Yes, I will go," a congregation was formed. Ultimately seven schools were founded, and Dominican Sisters of San Rafael ministered in 32 others. The congregation owned and staffed two hospitals and a retreat center. While much has changed since 1850, the sisters trust that Mother Mary would recognize her them by their communal life of prayer, study, and service.
In these challenging times, the congregation draws strength from its roots, not only those in California and Nevada, but also those of the 800-year old Dominican Order. And the sisters maintain faith in a vision of the future. Mother Mary often wrote in some of her letters a favorite prayer: "God alone." It carried her across seas, the frontiers of a young nation, and jungles to an adobe building in Monterey.
The past 160 years are witness to the numerous and diverse sparks of God's presence and activity in the lives of women who have joined this congregation. While those who followed in Mother Mary Goemaere's footsteps as Dominican sisters are to be celebrated for the work they have done in education, health care, service to the poor and to those on the margins of society, a more significant fruit of that seed planted so many years ago is the influence in bringing about the Gospel to bear on the critical issues in each wave of history. Whole families, parishes, towns, and dioceses have felt the effects of a second grade teacher or a nurse setting a bone or a compassionate presence in a rectory office. Those points of grace rippled into the soil upon which the fullness of God grew and flourished.