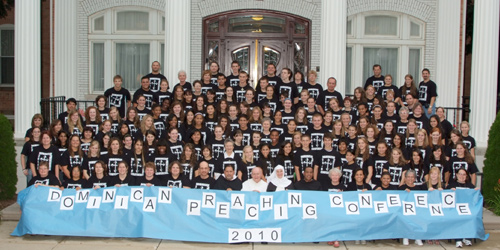 High Schools Preaching Conference
12th annual event has highest attendance yet
"Activeritas!" is the word created by Michael Petro for the 12th Annual Dominican High Schools Preaching Conference that took place June 26 to July 1, 2010 at Siena Heights University, Adrian, Michigan. Veritas, or Truth, the motto of the Dominican Order, is an action and so are the pillars: prayer, study, community and preaching.
Participants activated their Dominican powers during the conference when 22 Dominican schools from across the U.S. and Puerto Rico gathered to deepen and discover again their Dominican spirit. Joining the gathering for the first time was San Domenico School from California and returning were St. Agnes Academy, Tennessee and St. Vincent Ferrer High School, New York. The 98 students were the largest group yet.
Participants began the conference by forming community in an opening ritual in which schools combined water brought from home. That water is used later in the week at other prayers. St. Dominic (Patrick Spedale), St. Catherine (Nancy Murray, OP), St. Martin de Porres (Herman Johnson, OP) and Antonio Montesino (Jim Barnett, OP) "visited" the students on Sunday. After experiencing interfaith circle dances with Joseph Kilikevice, OP, and a visit to Adrian's famous Spotted Cow ice cream shack, participants concluded the day with liturgy. Sean Mundy, a member of the U.S. Dominican Young Adult Movement, shared his understanding of the gospel message.
This year's signs of the times workshop topics were human trafficking (Judith Hilbing, OP), non-violence (Mary Ann Barrett, OP), the death penalty (Jean Hughes, OP and Erica Meiner), Iraqi refugees (Beth Murphy, OP and Ban Saaed, OP) and the United Nations (Eileen Gannon, OP). Brendan Curran, OP wrapped up the day with the immigration challenges at St. Pius V parish in Chicago. Each presenters shared ways in which students could respond to these justice topics of the Order.
After a day of volunteering in the Adrian area, the students joined the Adrian Dominican Sisters and local community for Tuesday Evensong Prayer for Peace. They then enjoyed pizza and desserts with their sister prayer partners of the week.
The Preaching through the Creative Arts session began on Wednesday with Sisters Barbara Hansen and Mary Donnelly, OP presenting on using the media as a preaching form. Later, student chose two other preaching through art sessions—watercolor (Sue Schreiber, OP), mandalas (Barbara Schwarz, OP), liturgical preaching (Sara Fairbanks, OP), liturgical movement (Luchy Sori, OP), acting (Nancy Murray, OP), t'ai-chi chih (Carletta LaCour, OP), rosary making (Ban Saaed, OP; Aman Miriam Mansoor, OP; and Maureen Fenlon OP), collage (Xiomara Mendez-Hernandez), and print making (Doug Greer, OP).
From left: Mary Soher, OP; Casey Lefante, Pat Harvat, OP; Marcia Peyton. Pat and Marcia work with Casey
at St. Mary's Dominican High School.
At the banquet, first-year preaching conference attendee Casey Lefante received the St. Dominic Award, presented to a graduate of the conference for her continued commitment to the ideals of the Dominican Order and deep desire to preach the gospel in and through her life. After graduating from St. Mary's Dominican High School, New Orleans, Louisiana, Casey attended Tulane University and received her bachelor's degree in English. That following November, she was diagnosed with ovarian cancer. "What I know now and what I think I have always [known] to some extent, is that it was only through intense questioning that I truly found the answer: that God's presence and love have no expiration date… and he (God) was there during recovery, a recovery that was largely made possible by the support of my Dominican community, both local and nationwide," she said.
Casey went on to say, "I never would have guessed in 1999 that 'cancer survivor' would be one of my modes of preaching… By the fall of 2005, I'd successfully entered remission… But a week after starting graduate work, Hurricane Katrina hit the city I'd lived in and loved for more than half my life. It was during this second uprooting that I reconnected with Jason Calvi, one of my fellow Dominican Preaching Conference preachers. Jason sent prayers and well-wishes from Illinois, where he'd started a career as a local news anchor. Although we hadn't seen each other or really spoken to each other in years, the common experience of being Dominican preachers kept us connected in a very real and positive way."
Casey currently teaches at her alma mater, St. Mary's Dominican High School. "My hope for Dominican's future is that these young ladies will come to discover what I have: that the journey of preaching God's work starts now, and it doesn't end with high school. It doesn't end with college or personal illness or a catastrophic act of nature. These are the moments when preaching rises to its utmost importance, when those of us called to be preachers must stand tall and do our work."
At the closing liturgy, students presented action plans—commitments of how they would continue their preaching in the coming school year. Action plans will be posted on the website, www.domlife.org/opteens.
Many thanks to the following congregations and provinces that make this collaborative project possible: Dominican Sisters of Adrian, Amityville, Caldwell, Grand Rapids, Houston, Mission San Jose, Peace, San Rafael, Sinsinawa, Sparkhill, Springfield, and St. Catherine of Mosul, and the Friars of St. Albert the Great and St. Martin de Porres provinces.