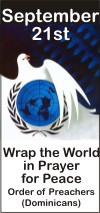 Dominicans Join International Day of Prayer for Peace with Advocates Around the World
ABOVE: Dominican Sisters of Amityville lead prayers of petition BELOW: Students at the Untied Nations mark the day.
ABOVE: Dominicans from Blauvelt and Sparkill join the September 21st International Day of Prayer for Peace BELOW: Judy Lu, OP (San Rafael) blesses those present for the prayer around the peace pole.
September 21 2009-- Along a street in Hicksville, NY, neighbors displayed a peace candle poster in their windows as a sign of joining in prayer for peace. Dominican Sisters of Amityville encouraged them with mailbox flyers.

At the United Nations Secretary General Ban Ki-Moon , rang a peace bell and said, "On this International Day of Peace, I have one simple message: We must disarm."
Students from St. Agnes Academy and St. Pius X High School joined the Dominican Sisters of Houston in St. Dominic's Villa chapel . to "Wrap the World in Peace." The students participated in the prayers and ringing of the bells at noon. Following the prayer service, the students joined the sisters for dinner in the dining room.

Doiminicans Sisters of Hope at the Mariandale Retreat Center, along with others who are there, paused for one minute at noon to pray for peace and recited the Prayer of St. Francis.

The Dominican Sisters of Sparkill and Blauvelt gathered to celebrate the International Day of Peace.They "remembered the sorrow and tears of our broken world, calling upon the spirit of truth, healing and peace to touch the people of: Iraq, Darfur, Afghanistan, Israel and Palestine, Democratic Republic of Congo and Rwanda, Nigeria, Columbia, the South Bronx, Pakistan, Haiti, Northern Ireland and America."

Maryknoll Sisters sponsored the Million Minutes of Peace campaign organized by Odyssey Networks, the nation's largest coalition of Christian, Jewish and Muslim faith groups dedicated to building bridges of understanding through media. Odyssey Networks launched a multimedia campaign to secure one million pledges to pray for peace on September 21-- the United Nations International Day of Peace.

About 150 people joined the Dominican Sisters gathered at Sinsinawa Mound to pray and hold the world in silence. They used a water ritual, led by Joy Peterson, PVMB, the justice promoter for Sinsinawa. The community has held this prayer since the inception of the International Day of Prayer for Peace in 1981. Members lit candles around a large globe that burned all day, and welcomed people to sit in contemplative prayer.

In Sarasota, Florida, Lay Dominicans and Lay Franciscans joined together for Mass, brunch and a prayer service. The Dominican Sisters of Hope were there.

A group of approximately 50 people gathered at the Peace Pole in front of the Dominican Sisters Center in San Rafael, CA. The pole was originally installed in 2004 and the day has been marked with prayer and the tolling of the sisters' bell each year.

Dominican sisters, associates, frians, nuns and laity gathered for prayer service, called by the ring of peace bells, a refrain arises: "Trust in the Lord who is our help." Every September 21st, they join the rest of the Dominican Familiy to pray for peace.
Ban Ki-Moon, in addressing the UN crowd said, "We must disarm:
because we have to focus on our future, not [nuclear] warfare,
because more people prosper in times of peace than in fearful and deadly times of war,
because young people deserve a fresh start in a safer world without nukes,
because these weapons are impractical, unacceptably risky and unworthy of civilization,
because nukes don't differentiate between military targets and hospitals or playgrounds,
because billions are spent on a tool of self-destruction while many die of hunger, because security is not achieved by force but by justice, law and respecting others.

Countless other Dominicans around the US and the world remembered to Wrap the World in Prayers for Peace.