Thanksgiving Day

A short selection of prayers for the day and a few clip art images at the bottom:
cut and paste into Word or any other appropriate program.

Thanksgiving
For each new morning with its light,
For rest and shelter of the night,
For health and food,
For love and friends,
For everything Thy goodness sends.
- Ralph Waldo Emerson (1803-1882)

The Canticle of the Creatures

Most High, all-powerful, all-good Lord,
All praise is Yours, all glory, honor and blessings.
To you alone, Most High, do they belong;
no mortal lips are worthy to pronounce Your Name.
We praise You, Lord, for all Your creatures,
especially for Brother Sun,
who is the day through whom You give us light.
And he is beautiful and radiant with great splendor,
of You Most High, he bears your likeness.
We praise You, Lord, for Sister Moon and the stars,
in the heavens you have made them bright, precious and fair.
We praise You, Lord, for Brothers Wind and Air,
fair and stormy, all weather's moods,
by which You cherish all that You have made.
We praise You, Lord, for Sister Water,
so useful, humble, precious and pure.
We praise You, Lord, for Brother Fire,
through whom You light the night.
He is beautiful, playful, robust, and strong.
We praise You, Lord, for Sister Earth,
who sustains us
with her fruits, colored flowers, and herbs.
We praise You, Lord, for those who pardon,
for love of You bear sickness and trial.
Blessed are those who endure in peace,
by You Most High, they will be crowned.
We praise You, Lord, for Sister Death,
from whom no-one living can escape.
Woe to those who die in their sins!
Blessed are those that She finds doing Your Will.
No second death can do them harm.
We praise and bless You, Lord, and give You thanks,
and serve You in all humility.

St. Francis of Assisi
How Great Is Your Goodness

How great is your goodness, dear Lord!
Blessed are you for ever!
May all created things praise you, O God,
for loving us so much that we can truthfully speak
of your fellowship with mankind, even in this earthly exile;
and however virtuous we may be,
our virtue always depends on your great warmth
and generosity, dear Lord.
Your bounty is infinite.
How wonderful are your works!

St. Teresa of Avila


Here is some clip art:
(copy and paste to your favorite word processing program)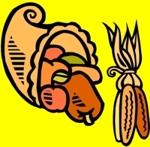 Thanksgiving in History
To some, the "First Thanksgiving" presents a distorted picture of the history of relations between the European colonists and their descendants and the Native People. The total emphasis is placed on the respect that existed between the native Wampanoags led by the sachem Massasoit and the first generation of Pilgrims in Plymouth, while the long history of subsequent violence and discrimination suffered by Native People across America is nowhere represented.
To others, the event shines forth as an example of the respect that was possible once, if only for the brief span of a single generation in a single place, between two different cultures and as a vision of what may again be possible someday among people of goodwill.
History is not a set of "truths" to be memorized, history is an ongoing process of interpretation and learning. The true richness and depth of history come from multiplicity and complexity, from debate and disagreement and dialogue. There is room for more than one history; there is room for many voices.

from the Pilgrim Hall Museum
---
MORE prayers...

Thanksgiving Prayer


We return thanks to our mother, the earth, which sustains us.
We return thanks to the rivers and streams, which supply us with water.
We return thanks to all herbs, which furnish medicines for the cure of our diseases.
We return thanks to the moon and stars, which have given to us their light when the sun was gone.
We return thanks to the sun, that has looked upon the earth with a beneficent eye.
Lastly, we return thanks to the Great Spirit, in Whom is embodied all goodness, and Who directs all things for the good of Her children.
Iroquois Prayer, adapted
(Sisters of St. Joseph of Peace)

Count Your Blessings
Count your blessings instead of your crosses;
Count your gains instead of your losses.
Count your joys instead of your woes;
Count your friends instead of your foes.
Count your smiles instead of your tears;
Count your courage instead of your fears.
Count your full years instead of your lean;|
Count your kind deeds instead of your mean.
Count your health instead of your wealth;
Love your neighbor as much as yourself.
Author unknown